*MISH Hospital and Clinics Weight Loss Surgery Program
Call now to schedule your free consultation @ 913-322-7401
The Institute for Advanced Bariatric Surgery surgeons perform weight loss surgery at MISH Hospital and Clinics, a Metabolic and Bariatric Surgery Accreditation and Quality Improvement Program (MBSAQIP) Comprehensive Accredited Center performing all approved weight loss operations available for surgical weight loss without weight restrictions.
MISH Hospital and Clinics is dedicated to the complete care of patients suffering from clinical obesity. Patients report choosing MISH due to experience, quality of care, patient safety record and the individual personal approach. MISH's emphasis in bariatric surgery is on patient education and performing the safest minimally invasive operation in a positive and supportive environment to help patients reach their health and weight loss goals.
*Disclaimer: Surgery results may vary from one person to another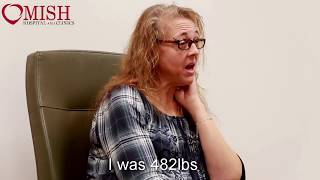 Why MISH Hospital is the best weight loss surgery hospital in KC.
Why pick MISH? Watch April's reason on why she continues to pick MISH after losing 300lbs. Make sure to like, follow and share our page to see more amazing stories like April. Call us at (913) 730-1771 today to start your own weight loss journey.